Kansas City Connection: The art of 'Rising Up,' and visiting some old haunts
American painter Hale Woodruff lived and studied in Paris, learned fresco techniques in Mexico under Diego Rivera and taught on the faculty of New York University for 20 years. He is best known for a series of murals painted in 1938 at Talladega College in Alabama depicting the 18th-century slave revolt on the Amistad. The murals have since been restored and are now on view at the Nelson-Atkins Museum through Jan. 10, 2016. 
The exhibition, "Rising Up: Hale Woodruff's Murals at Talladega College," is free to the public, and a series of related public events is scheduled that includes a concert by vocal group The Divas on Friday, Oct. 16, at 6:30 p.m. featuring music inspired by the murals.
On the following Friday, Oct. 23, poets Glenn North, the director of education at the Black Archives of Mid-America, and Jose Faus, Natasha Ria El-Scari and Sheri Hall will perform poetry in response to the artwork. That event begins at 6 p.m.
Check out nelson-atkins.org for a full list of special events related to the exhibit. 
Woodruff's paintings are also featured in an exhibit at the American Jazz Museum in the 18th and Vine historic jazz district. "All Hail to Hale" includes works from the family's private collection, some of the artist's personal items, and tribute works from 14 different artists. The exhibit is on display through Feb. 20.
Rhiannon Giddens
Each week since 1978, KCUR 89.3 radio host Bill Shapiro presents an in-depth look at a different musician or genre on his hour-long program "Cypress Avenue," broadcast at 1 p.m. and again at 7 p.m. on Saturdays. Shapiro also hosts an annual concert series at the Folly Theater.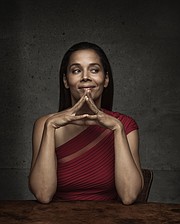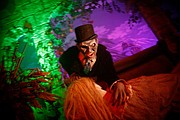 At 7 p.m. Sunday, Oct. 11, Cypress Avenue Live features the dynamic singer and fiddle/banjo player Rhiannon Giddens, who was a founding member of the Grammy-winning band The Carolina Chocolate Drops. Giddens' solo album, "Tomorrow Is My Turn," is a soulful tour through different styles of American music that should feel familiar to listeners of Shapiro's program.
Tickets start at $25 at follytheater.org.  
Haunted houses
With Halloween season in full swing, I'd be remiss in not mentioning the many haunted houses in the West Bottoms.
The most famous of this haunted lot include The Beast, which opened in 1991 and is the country's largest haunted house, featuring the Werewolf Forest, a three-story light tower and a four-story slide.
The Edge of Hell has been around for 40 years now, and its five stories of horrors are not recommended for anyone 10 or under, or really anyone who suffers from claustrophobia, nightmares or a fear of things that go bump in the night. Tickets and ticket packages can be purchased online at fullmoonprod.com.
'Wonderland' art
One of Kansas City's best-known artists is leading a discussion about the fascination artists have with the characters and story of Lewis Carroll's "Alice's Adventures in Wonderland," which celebrates its 150th anniversary this year.
Peregrine Honig's talk will take place at 6:30 p.m. Wednesday at the Central Library, 14 W. 10th Street, which is also featuring an "Alice"-inspired art exhibit including psychedelic works from some of the city's leading artists and fashion designers.
The show, "Intimate Riot," is on display in the library's Rocky and Gabriella Mountain Gallery through Jan. 17, 2016. Learn more at kclibrary.org.
Concerts
New Orleans rhythm and blues veteran Dr. John has been entertaining crowds for decades, and his 2012 album "Locked Down," produced by Dan Auerbach of the Black Keys, introduced him to a new generation of music fans.
On Thursday, the good doctor plays (fittingly) at the VooDoo Lounge at Harrah's Casino in North Kansas City. Tickets cost $25 and up at voodookc.com.
There might not be a more popular instrument right now than the ukulele, and few if anyone play it more spectacularly than Jake Shimabukuro. The ukulele wizard performs at 7 p.m. next Sunday, Oct. 18, at the Kauffman Center. Tickets are $21 and up at kauffmancenter.org.
— Lucas Wetzel is a writer and editor from Kansas City, Mo.