Bonner Springs beats Turner in district opener
The Bonner Springs High School football team captured a decisive 55-15 home victory over Turner on Friday evening, remaining unbeaten at 7-0 this season.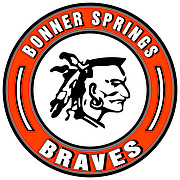 The No. 4 state-ranked Braves also moved to 1-0 in Class 5A District 3 with the win with games against No. 2 Mill Valley and St. James Academy still looming.
Bonner Springs was led by quarterback Connor Byers, who finished 14-for-23 for 236 yards and five touchdowns with no interceptions. He also rushed for 109 yards and two more scores on 11 carries.
Running back Marcell Holmes added 127 yards and a touchdown on 13 carries, and Caden Henley, Aaron McGee, Hayden Hoffine, Charlie Gray and Jamison Jackson all caught touchdown passes.
The Braves will be back in action at 7 p.m. on Friday as they travel to take on Mill Valley.
---
Jon Poorman is the sports editor at The Chieftain. Follow him on Twitter at @JonPoorman for all of the latest community sports news.