Bonner Springs High service club earns top award
KAY

club plans Powder Puff fundraiser next week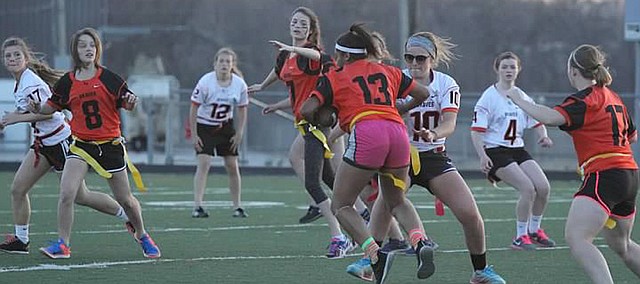 Bonner Springs High School students have yet another award showing their aptitude for serving the community.
The 70-member BSHS Kansas Association for Youth, or KAY, community service club topped off its busy 2014-15 school year by earning the first KAY Gold Award in 14 years. As the club prepares for its biggest annual fundraiser, a Powder Puff game, for next week, Jennifer Stricherz, one of the faculty sponsors, said the club's increased activity recently has been due largely to the willingness of its members to get active.
"I think they are more community-service driven," she said. "Sometimes kids joined just to play Powder Puff … I think now they're joining to help volunteer because they want to help the community."
Stricherz also credited last year's club president, Jenna Hammond, and fellow Class of 2015 members Aaron Ashford and Tanner Shipman for a boost of energy.
"They really stepped up and wanted to do all kinds of things, and the three of them received my senior scholarship awards," Stricherz said.
Stricherz said she hopes the club's revitalization continues in this school year, especially since next year the club is set to host a regional KAY conference for about 130 students representing 19 high schools, likely at the Bonner Springs Community Center.
The KAY organization requires each club to complete a world, national, community and school project to help the members feel part of a global society, emphasizing leadership, community outreach for those in need and becoming positive influences for their school and community.
The club was founded at BSHS in the 1984-85 school year but formerly was a "KAYette," or all-female, organization. The 2000-2001 school year was the only other time the BSHS club earned a Gold Award.
Last year, the club became co-ed, which Stricherz said was part of re-energizing the group.
Last year also was the first year for Stricherz and former BSHS teacher Ryne Huff to serve as the club's faculty sponsors, so they attended a sponsors' conference that helped get them better organized. This year, Parker Ast has replaced Huff.
To earn a Gold award, a club must earn 1,000 points and meet minimum percentages of club member participation in each different type of service project, as well as sending members to KAY Leadership Camp and various conferences.
In addition to its best-known project, the annual Powder Puff football game, the club last year created school staff appreciation gifts, worked with the Leavenworth VFW Post to clean its facility, took 12 members to a regional conference and 22 members to an area conference, held a canned food drive for Vaughn-Trent Community Services, adopted a family at Thanksgiving and Christmas, cleaned up the school's Memorial Walkway, created videos for KAY scholarships and raised funds to send three members to KAY Leadership Camp in July.
So far this year, members held a KAY alumni event and volunteered at Sunflower House, a child abuse center serving Johnson and Wyandotte counties. In August, members volunteered for the BSHS Drive 4 UR School fundraiser for BSHS Athletics, and in September, they continued efforts to clean and maintain the Memorial Walkway.
This month, they have again volunteered with the VFW and are planning their Powder Puff game for 6 p.m. Wednesday at BSHS's David Jaynes Stadium.
Entry to the Powder Puff game is $4 per person, or $2 with a non-perishable food item. The food will be donated to Vaughn-Trent, while funds raised go to scholarships and to help the club provide Thanksgiving dinner for a family in need.