Face to Face: Bonner Springs teacher Kelly Hoopes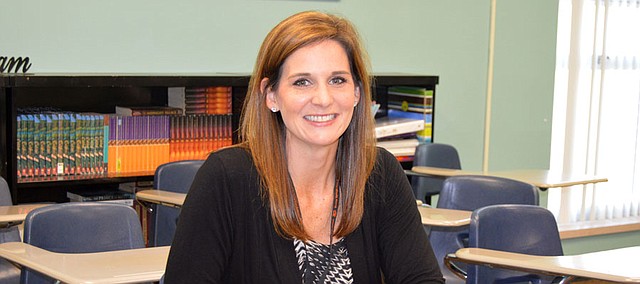 Name: Kelly Hoopes
Birthplace: Wichita
Family: Husband, Brennan, and 19-month-old son, Meyer
Occupation: Spanish teacher and world language department chair at Bonner Springs High School
Dream job as a child: A teacher was only one of three options for Hoopes.
"I also thought about being an orthodontist and a cake decorator," she says. "Three very different directions."
Hobbies: Exercising, baking and doing "crafty things," such as refinishing furniture and building things with her husband.
While having a young child hasn't left much time for hobbies, Hoopes did get to live up to her childhood dreams of cake decorating not long ago.
"I did decorate Meyer's cake for his birthday, but it was a very simple design, nothing crazy," she said. "My husband doesn't mind at all being the cake tester."
Digging deeper: While she considered teaching as a career in her youth, her path to education really began with her love of Spanish.
She started taking Spanish classes early and stuck with the language, completing Spanish 5 in her senior year of high school.
"I had an amazing teacher who just made me love the language," she said. "I traveled with her and a school group to Spain over spring break, and that was eye opening. Once I got to college, I knew I was going to do Spanish, but I didn't really know what I wanted to do."
She joked that since a Spanish orthodontist or a Spanish cake decorator didn't seem plausible, she turned back to her interest in teaching.
"I get to use my Spanish every day, pass on my knowledge and love for the language and culture to my students," she said. "And I definitely like working with young people, so it's just been a good way to combine all my passions into one profession."
A few years ago, Hoopes pioneered the use of a "comprehensible input" method of teaching foreign language. Instead of focusing on memorization and rote translations, the classes do a lot of reading and singing songs.
"We want students to be able to communicate and understand in Spanish, so we do everything via context," she said. "It's more like the natural acquisition of a language, more like how you learn your first language — the same way that toddlers learn."
Hoopes said with the new method, students' Spanish proficiency seems to be on track or above national standards, and both she and the students just have more fun in the classroom, leading to more students continuing on to higher-level Spanish classes.
"We've had a lot of success with engagement, with students' comprehension abilities and their production," Hoopes said. "What they're able to say takes longer (at first), but in comparison to previous years, they leave Spanish 1 being able to understand and produce much more than they ever were before."
Hoopes recently earned some recognition for her efforts, becoming the first recipient of the Bonner Springs-Edwardsville Chamber of Commerce's Teacher of the Month award last month.