Banner Tiblow Days weekend for Bonner
Gray skies may have dominated the weekend, but the cooler-than-usual weather helped more than hurt Bonner Springs's annual Tiblow Days festival.
Photo Gallery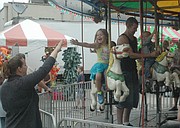 Tiblow Days 2015
Cloudy skies persisted but little rain fell on Tiblow Days, and the cooler-than-usual weather, and the performance of local country star Tate Stevens Saturday night, led to larger-than-usual crowds.
And in addition to what seemed to be a larger than usual overall attendance for Tiblow Days, Mayor Jeff Harrington made a major announcement at his Mayor's Banquet Friday night regarding the upcoming retirement of John "Jack" Helin, the current city manager.
"With Jack's retirement we are turning a new page in Bonner Springs history, I would like to announce the council and I have offered, and a wonderful, highly qualified young man has verbally accepted the challenge of becoming our next city manager," Harrington told the crowd.
Following his annual State of the City speech at the banquet, Harrington said he did not name the city-manager-to-be because the acceptance was only verbal, but he hoped to make the announcement by the middle of September when the city had a signed contract in place.
The announcement was the cherry-on-top of a phenomenal weekend for the city, as the festival kept the downtown area consistently crowded.
"Everything was bigger this year it seems like," said Marcia Harrington, community and economic development director for the city. "We had more cars, we had more barbecuers, there was more of just about everything."
While there are no official attendance numbers, Marcia Harrington said crowds were larger than they had been in the last few years for both evenings of free concerts — especially Saturday's concert with Tate Stevens.
"We were very pleased with the turnout, and we're already talking about next year," she said.
The weekend seemed to reflect the message Jeff Harrington gave in his State of the City speech Friday.
"The state of our city is good, it's stable, secure and poised to take the next step in providing the quality of life that is unique to Bonner Springs," Jeff Harrington said.
The mayor reviewed the city's five keys of success, the first being economic development. He said the city has welcomed 15 new businesses in the past year, and joked the downtown area was becoming reality television central with Danni Boatwrite of Survivor at Sideline Chic and Terry Mille of Cutthroat Kitchen at Cowtown Cheescake.
Other keys to success included planning for infrastructure improvement, specifically for water and wastewater; financial budgeting and maintaining the property tax rate; public safety, where the city was investing in a new police reporting system; and education, with the school district completing several upgrades to the high school.