Retired teacher humbled, honored to receive Marion Vaughn award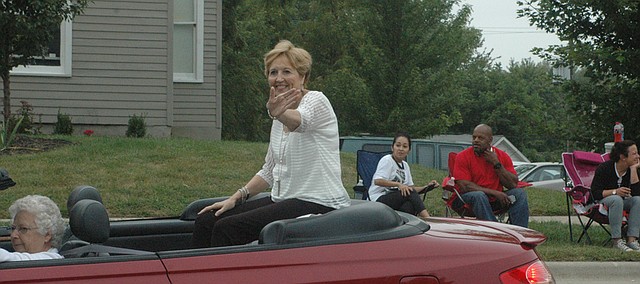 Judy Miksch has always had a special place in her heart for children — she says a child in need will draw her in like a magnet.
"It's just a very personal thing; I become very emotionally involved," she said. "I always want to be able to help in some way. You can't always fix it, but I want to be there if you need something, I want to reach out and help if I can."
Her connection with children began when she was young and was further fostered in her 33 years teaching in Bonner Springs-Edwardsville USD 204. It continued in her service to the community after her retirement in 1998, though her efforts to help in the community certainly weren't limited to children. Her dedication to helping others was what earned her this year's Marion Vaughn Community Service Award.
"When Jeff called … I was shocked, and I didn't believe him," Miksch said as she accepted her award from Mayor Jeff Harrington at Friday's Mayor's Banquet. "I do feel very honored and humbled to be here tonight because it was never, ever in my mind that I would be a recipient of this award."
Miksch grew up on a family farm near Oswego, where her parents ran a livestock feed and grain business. She said she learned a lot about hard work and helping others from her family.
"I don't know that they volunteered so much, but it was just important that they do things for other people — they were very involved in our small community," she said. "And I enjoyed it, I liked it, so I'm sure that's how it all got started."
While attending Labette County schools, Miksch took lessons in piano, voice, band and string instruments, even earning trade school diploma in music at the same time as her high school diploma. She considered being a college music major while attending Pittsburg State, but she eventually decided her love of children made her better suited to be an elementary-level educator.
Several school districts came to recruit on campus before Miksch graduated, and while she knew USD 204 was among them, she didn't have a clue where Bonner Springs was, so she didn't sign up for an interview.
But her sorority house's "mother" was the sister-in-law of the Bonner superintendent, so they had an impromptu interview when he stopped by the house for dinner, and she was eventually hired.
Miksch began as a kindergarten teacher at McDanield, and after a couple of moves to other buildings, she ended up in first grade at Edwardsville Elementary, where she stayed for the rest of her career, teaching more than 1,000 students.
Miksch earned her master's degree at Kansas University during her career, and she was known among students for her affinity for dressing up in elaborate costumes, whether for Halloween or just for a fun lesson.
Her community involvement has included singing in the choir and playing the organ for several churches — she is now a member of St. Michael's and All Angels Episcopal Church. She is a member of the Bonner Springs Rotary Club and has served as the club's president three times, a member of the local PEO chapter, and serves on the policy board of Head Start Preschool, where she dresses as the Cat in the Hat on Dr. Seuss's birthday and organizes a drive to provide all students with a new set of pajamas.
Miksch also volunteers for the HALO Foundation, a Kansas City-based organization that works to serve at-risk youth locally as well as orphanages worldwide. She was a charter member of the Bonner Springs City Band and Kaw Valley Community Chorus.
Six years ago, Miksch was diagnosed with chronic lymphocytic leukemia, which she kept at bay until late last year. She underwent a round of chemotherapy for the first half of 2015.
"You learn what is really important," she said of fighting the disease. "Material items don't mean anything; having your life and being able to do the things you do with the people you love is paramount."
Miksch admits she didn't think much of Bonner Springs when she first arrived, but 50 years later, she can't imagine leaving the community.
"I assure you my opinion of Bonner has greatly changed," she said Friday as she accepted her award. "I truly do consider this my second home town. My teaching career was very gratifying due to all the wonderful kids that I had, the parents that I had and the many, many friends that I have developed and kept throughout the years here in this community."