Bonner Springs tops Eudora in season opener
The Bonner Springs football team got its season off to a strong start on Friday night as the Braves went on the road to beat Eudora 28-14.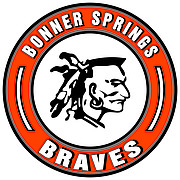 Bonner Springs raced to a 21-0 halftime advantage and never looked back on its way to the win. Quarterback Connor Byers accounted for three touchdowns to lead the way.
Byers connected with Caden Henley for a 22-yard touchdown pass to get the scoring started in the first quarter. Running back Marcell Holmes then found paydirt from five yards out to give the Braves a 14-0 lead.
Byers then added a 22-yard touchdown run in the second quarter, and Bonner Springs walked into the locker room with a comfortable edge over the homestanding Cardinals.
Eudora pulled within one score in the fourth quarter, but Byers sealed the victory for the Braves when he ripped off a 69-yard touchdown run to cap the scoring.
Bonner Springs will be back in action at 7 p.m. on Friday, Sept. 11, as it plays host to Chanute.
---
Jon Poorman is the sports editor at The Chieftain. Follow him on Twitter at @JonPoorman for all of the latest community sports news.