Basehor-Linwood sweeps rival Bonner Springs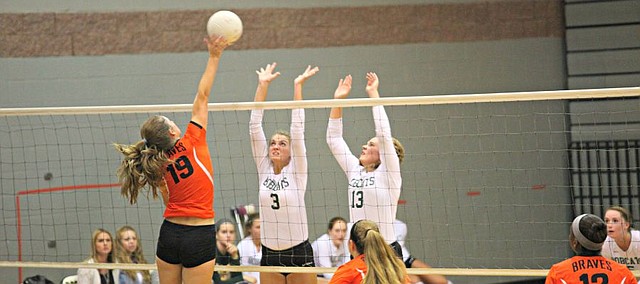 Basehor — The Basehor-Linwood volleyball team didn't need much time to take down Kaw Valley League rival Bonner Springs on Tuesday evening, dispatching the Lady Braves in three sets with a 25-14, 25-17, 25-14 home victory.
The Lady Bobcats (9-2) have now beaten Bonner Springs (4-2) twice this season. Basehor-Linwood also took home a 25-22, 26-24 triumph over the Lady Braves last Tuesday during a quad match.
Madi Osterhaus led the charge with 12 kills, Courtney Robinson added nine, and Courtney Norris finished with seven. Nicole Rutherford paced the offense with 20 assists, and Robinson had 11. Norris delivered four aces, and Katie Yankovich was a force in the middle with four blocks.
"We were prepared because last time they played us very, very close," Basehor-Linwood coach Amy Irvin said. "We prepared to stop certain people on their team and to do what we needed to do to put the ball down and win. We did what we practiced, what we talked about, so I'm very proud."
Bonner Springs, meanwhile, was without starting libero and senior Emily Nelson, who sprained her MCL against last week. But despite that costly gap in the lineup, Lady Braves coach Jan Madlock said she did see some positives.
Julianne Jackson led the Lady Braves with nine kills, and Natalie Klotz added six. Alazia Stanley paced the offense with 11 assists, and Paige Sechrist finished with five.
"We are definitely missing a major part of our defense and our passing because of her injury," Madlock said. "Without Nelson on the floor — she is a defensive captain for us, and we're missing that. … I thought we touched a lot of balls on the block, and while we may not have terminated as many, I felt like we're getting better at the block, so that's encouraging."
Basehor-Linwood, the No. 10 team in the state in Class 4A, will be back in action on Saturday as they participate in the Lansing tournament. Bonner Springs will be competing on Saturday in the Baldwin tournament, which will be held at Wellsville High School.
---
Jon Poorman is the sports editor at The Sentinel and The Chieftain. Follow him on Twitter at @JonPoorman for all of the latest community sports news.