Encapsulating history: Edwardsville students create memorabilia for time capsule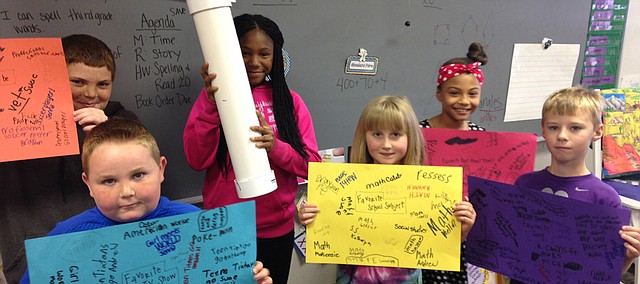 What will the city of Edwardsville look like 100 years from now?
"Our houses are going to be floating," third grader Isaiah Davila proposes.
"There would be teleporters to get us to school," classmate Andy Streit suggests.
"There will be no gravity so we can float everywhere," says Tommy Moore, another third grader. "Cars won't have wheels, so they float and won't use any gas."
The responses are part of the compilation Edwardsville Elementary School students will put into a time capsule to be buried at Edwardsville City Park on Sept. 19 during the city's 100 Year Celebration. Each grade level of the school has been working on a contribution in the past few weeks.
While many cities create time capsules to mark an important milestone or the building of a new municipal facility, it seems Edwardsville has never done so in its 100-year history.
"The idea was brought up during a 100 Year Celebration Committee meeting, with representatives of the school present," said Peter Yazbec, public works director and committee member. "Once it was brought up, we all thought it would be a great project of the school, and a great way to commemorate the 100 Year Celebration."
The city created the storage capsule out of a large piece of PVC pipe. Third grade teachers Kerry Copple and Jennie Skibbe stepped up to lead the project, asking each grade level to come up with their own contribution for the capsule.
"I told them to come up with things that they like about Edwardsville, or things that they want people to know about the city today, like the prices of different things," Copple said.
So kindergarteners decided they would contribute a popular toy of the day, likely something related to the Disney movie "Frozen." As previously mentioned, the third graders are compiling their predictions of the city in 100 years.
Meanwhile, fifth graders filled out sheets of paper documenting their "favorites" in 2015, from favorite school subject to favorite movies and songs, as well as what they want to be when they grow up.
They also are sharing their favorite things about the school, drawing responses like the teachers, the nice neighborhoods and the afternoon bus driver.
"It's a good community," Hayden Hernandez wrote.
Class photos also will be added to the time capsule, as will a photo of the Edwardsville City Council and a letter from the city.
The 100 Year Celebration is set from 10 a.m. to 2 p.m. Sept. 19 at Edwardsville City Park. At 10:30 a.m., the city will dedicate the new extension of its walking trail to the late Phyllis Freeman, former city clerk.
Hamburgers and hot dogs will be for sale for $1 and 50 cents, respectively, with chips and drinks available for 25 cents each. Cotton candy will be available for free.
Children's games and activities will run from 11 a.m. to 2 p.m. and include face painting, a balloon artist, train rides and old-fashioned games.
The Doug Danner Band will play from 11 a.m. to 1 p.m.
Students from Edwardsville Elementary will sing "Happy Birthday" at 12:45 p.m., preceding the serving of the city's birthday cake.