Hot-air balloon festival relocates to Ag Hall grounds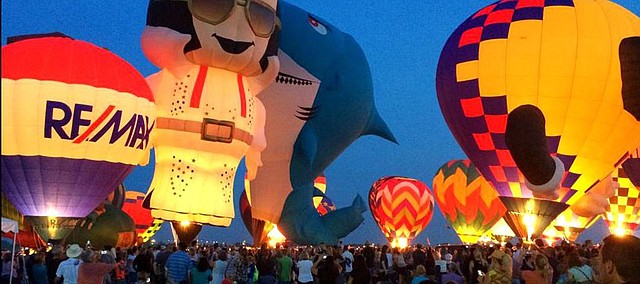 Already the home of the Renaissance Festival, concerts at Cricket Wireless Amphitheater and events at the National Agricultural Hall of Fame, Bonner Springs can add one more attraction to its list.
The Great Midwest Balloon Fest recently announced it will move this year's event both in date and location, to Oct. 23 and 24 at the Ag Hall. And if things go well, the festival will remain at the Ag Hall for at least two more years.
"We're just hoping we have great crowds and a good time and logistically it works out," said Robbie Small, co-director of the Great Midwest Balloon Fest. "We're excited about being in Bonner, and we think that location will work really well."
The festival previously took place in August and was based at the Great Mall of the Great Plains in Olathe for many years, though last year it moved to the Kansas Speedway. Small said that location turned out not to be the best for the festival for multiple reasons, so organizers moved it to Schlitterbahn Waterpark.
But then a portion of the grounds next to Schlitterbahn was sold to Dairy Farmers of America for a new headquarters, so the festival was again without a home.
"You can't just do a hot air balloon festival anywhere; you need land and you need land that doesn't have too many trees on it," Small said.
Hoping to keep the good highway access found in the area thanks to Interstates 70 and 435, the festival turned its attention to Wyandotte County Park and then to the Ag Hall, which has open, undeveloped acreage on its south side.
"We're happy to have them here," said Dawn Gabel, Ag Hall director of operations and development. "It's just really a wonderful piece of what we're hoping to be in the future, which is an event venue for the community. Which we've always been, but we want to make that a little better."
With the move to October, the festival will have a Halloween "Glows and Goblins" theme this year. It will run from 4 to 10 p.m. the first day and 2 to 10 p.m. the second day, using Cricket Wireless Amphitheater for parking with entry from 130th Street and then funneling crowds through the Ag Hall grounds.
Gabel said the Ag Hall will contribute with living history performers in Farm Town USA, where the festival also will set up craft booths and the children's carnival.
Related to the Halloween theme, children will be invited to come in costume and trick or treat among the pilots, sponsors and vendors. A costume contest will take place each evening for children ages 3 to 12, with winners in two categories receiving a family pass for the Great Wolf Lodge.
The festival always brings in some special shape balloons, and Small said they plan to have six. So far they have confirmed a haunted house, scare crow, purple people eater and old lady in the shoe balloons.
Also new this year will be an Oktoberfest beer garden and a 5k Glow Run, just before the evening Balloon Glows.
"There's something magical about hot air balloons that are not like any other festival or event," Small said.
Small said last year's event had a total attendance of more than 40,000.
The festival is seeking volunteers from the Bonner Springs community who will get free entry in the event the day of their shift. For more information, visit greatmidwestballoonfest.com.