New fitness center focuses on CrossFit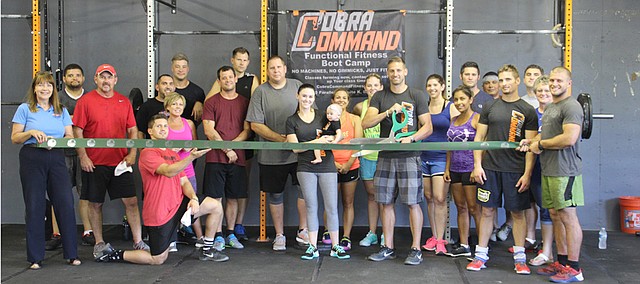 A new Basehor business hopes to broaden fitness options in southern Leavenworth and western Wyandotte counties.
Cobra Command CrossFit, 14500 Parallel Road, Ste. K, had its ribbon cutting Friday, and owner Vince Bertucci said he decided to open his own fitness center about a year after moving to Basehor and traveling long distances to reach another CrossFit facility.
"It was a lot of unnecessary time, and I noticed the need for something for the males in the community to work out," he said. "There's not much opportunity other than your usual 24-hour fitness center."
CrossFit is a strength and conditioning program that started in 2000. Gyms or facilities specializing in CrossFit are known as "boxes," Bertucci said, and his box won't rely on machines.
"We implement various tools to help our clients reach their fitness goals, from nutrition counseling to expert coaching on complex movements," he notes on his website, cobracommandfitness.com. "Our program is comprised of Olympic weightlifting, power lifting, kettlebells and basic gymnastics movements."
Bertucci has an extensive background in sports, playing football and baseball, running cross country and wrestling as a youth on the Missouri side of the metropolitan area. He wrestled for five years at the University of Central Missouri, and he started participating in CrossFit in 2011.
Bertucci moved to the Basehor area on the recommendation of close friend Ross Schwisow, who is the weights coach at Basehor-Linwood High School.
"He told us how great the school district is, the community," Bertucci said. "It's been nothing but great up here since we moved in."
The location on Parallel seemed to be perfect for a box, Bertucci said, given its proximity to Kansas Highway 7 and Interstate 70.
Bertucci admits his fitness studio's name was influenced by a favorite childhood cartoon.
"When I was thinking about owning a business, I wanted something that meant something to me," he said. "I remember waking up every day and watching that show… The object behind it is definitely G.I. Joe."
But he said the business will largely go by the nickname "C3." The box currently has four coaches, including fellow Basehor resident Jacob Heppner, who competed in the 2015 CrossFit Games this summer and finished 10th.
But Bertucci hopes potential clients won't be intimidated by Heppner — though his aim was to provide workout options for men, both men and women are welcome, and the business has tried to accommodate young families by offering a children's room.
"I don't want people to be scared off because it says 'CrossFit' or they see a picture of Jacob or see him on ESPN … this is everyday functional movements that everyone needs to do," Bertucci said.
He said anyone willing to commit to their fitness goals is welcome at C3.
"I want everybody; our age range goes from 14 years old to some people who are 60 years old," he said.