Bonner Springs takes sixth at Baldwin Invitational
The Bonner Springs volleyball team took sixth place at the Baldwin Invitational over the weekend at Wellsville High School, finishing with a 1-3 record.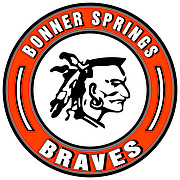 The Lady Braves (5-5) went 1-2 in pool play, defeating Baldwin (25-22, 25-11) before falling to Topeka Hayden (16-25, 10-25) and Wellsville (14-25, 14-25). Bonner Springs lost to Gardner-Edgerton (13-25, 25-18, 23-25) in the fifth-place match.
The Lady Braves will be back in action at 6 p.m. tonight as they play host to Kaw Valley League foe Piper.
---
Jon Poorman is the sports editor at The Chieftain. Follow him on Twitter at @JonPoorman for all of the latest community sports news.