No. 5 Bonner Springs takes down Lansing
The Bonner Springs High School football team captured a 35-28 road victory over Lansing on Friday evening, improving to 4-0 this season in the process.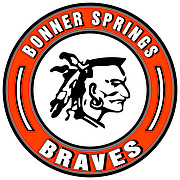 The Braves were led by senior quarterback Connor Byers, who was back from injury after sitting out last week's game against Basehor-Linwood. Byers rushed for 258 yards on 22 carries and threw for 197 yards and three more scores against Lansing.
Hayden Hoffine caught three passes for 65 yards and a touchdown, and Michael Amayo caught four passes for 62 yards and a touchdown. Byers third touchdown pass went to Jamison Jackson. Bonner Springs rolled up 493 yards of total offense as a team.
The Braves, ranked No. 5 in Class 5A by the Kansas Football Coaches Association, will be back in action at 7 p.m. next Friday as they play host to Piper.
---
Jon Poorman is the sports editor at The Chieftain. Follow him on Twitter at @JonPoorman for all of the latest community sports news.