Edwardsville
EMS

saves kitten
Edwardsville Fire and EMS officials today had a unique patient: a tiny kitten.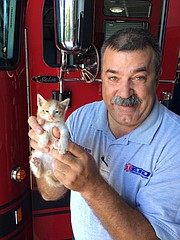 Fire Chief Tim Whitham reports that the fire and EMS crews at the Edwardsville Fire Department were wrapping up scheduled hose testing when a citizen came to the station advising she had a kitten that was choking. Immediately crews attempted to follow typical protocols of clearing the airway and dislodging the material in the throat.
With the young age of the kitten, crews rapidly used a bulb syringe, typical for clearing the airways of newborn infants, to clear and suction the material in the kitten's throat, Whitham said.
After a few attempts of dislodging the material with stomach thrusts and the bulb syringe, a piece of chicken was dislodged and the kitten resumed normal breathing.
"While it is not an everyday experience in the fire station, fire and EMS personnel continually utilize lifesaving skills for all the worlds' residents," Whitham said.