Face to Face: Bonner Springs volunteer Susan Berry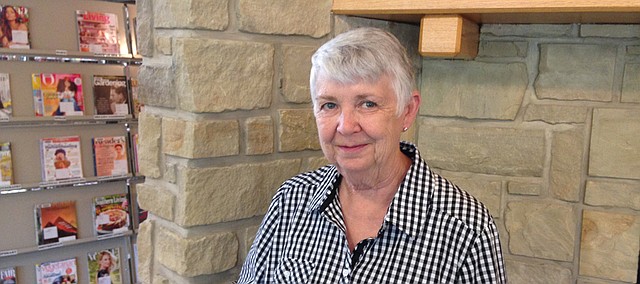 Name: Susan Berry
Birthplace: Clay Center
Family: Husband and grown son
Occupation: Retired teacher
Dream job as a child: Astronaut or archaeologist
"I just thought it was exciting to see those things that were before us and how they affect us today," she said of her archaeology interest. "We lived on a creek bed that had (American) Indian relics, so I thought that was interesting."
Hobbies: Reading, genealogy research, K-State sports and traveling with her husband.
"And yes, you can do Europe on only two outfits for 15 days," she said. "We just got back from Italy, and they lost our luggage, so we didn't have it the entire time."
She also serves as president of Friends of the Bonner Springs City Library and volunteers at Bonner Springs Elementary.
Digging deeper: Berry said she turned to teaching when she realized that archaeology might not be the most lucrative career path. She said she was influenced both by her mother, who was a one-room schoolhouse teacher at one time, and some good teachers that she had.
"I think all the planning, the organizing, appealed to me," she said.
Berry moved to the area in the fall of 1970 to do her student teaching at McDanield School in Bonner Springs, taking a job in the district after officially graduating. She stayed for three years before having her son.
After several years as a stay-at-home mom, she got back into teaching at Sacred Heart Catholic grade school, then located in Bonner Springs, and after just a year, the school found itself in need of a principal, so Berry earned a master's in administration and served as the principal until a fire forced the school to close. In 2000, she began teaching at St. Patrick's Catholic School in Kansas City, Kan., where she remained until her retirement in 2011.
Berry has kept busy since then and says she doesn't understand people who say they get bored after retiring. As the current Friends of the Library president, she said one thing she enjoys about volunteering in the library, aside from her love of reading, is that it was built on the former site of Sacred Heart using some materials from the school building.
"It's kind of like coming back to work every day," she said. "It's very unique."