Frederick Leroy Kimball 1941 - 2007 Lansing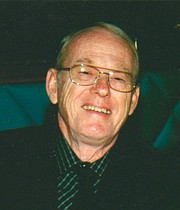 Frederick Leroy Kimball
1941-2007
Lansing
Frederick Leroy Kimball, 66, Lansing, died Monday, Dec. 3, 2007 at ,his home. Memorial serv-ices will be at 3 p.m. Saturday, Dec. 8, at the First Church of the Nazarene in Leavenworth. The family suggests contributions to First Church of the Nazarene in Leavenworth.
Mr. Kimball was born May 9, 1941, in Hawthorne, Calif., to William Liston and Anita Rose (Gerstenfield) Kimball. After he graduated from Wyandotte High School, he enlisted in the U.S. Navy. While in the Navy he went on several tours in the Mediterranean. Following his time in the service he moved to Titusville, Fla., where he met Jane Ellen Huddleston. They were married May 27, 1967. In 1968 they moved to Kansas City, Kan. He was employed with TWA and American Airlines for more than 40 years. Fred was a member of the IAM and the IWU Local 530.
Mr. Kimball was preceded in death by his father. Survivors include his wife of 40 years, Janie Kimball, of the home; two daughters, Wendy Mathews, Leavenworth; and Sherri Nowak, Lans-ing; his mother, Anita Coates, Titusville, Fla.; two brothers, William (Skip) Kimball, Lansing; and Gary Kimball, Titusville, Fla.; and one grandson, Tristan Mathews, Rammstein, Germany.
Online condolences may be expressed at www.amosfamily.com. (arr. The Amos Family Chapel of Shawnee, 913-631-5566)

Contact Amos Family Chapel of Shawnee by phone: 913-631-5566