Charles B,. Hall 1932 - 2007 Lansing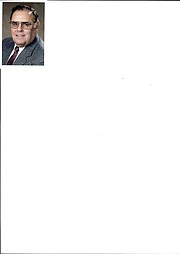 Charles B. Hall
1932-2007
Lansing
Charles Byron Hall, 75, of Lansing, died Saturday, Dec. 8, 2007, surrounded by his family. Services will be at 11 a.m. Thursday at the Elm Grove Baptist Church in Bonner Springs with burial to follow in the Elm Grove Cemetery. Visitation was Wednesday at the church. Memorial contributions can be made to the Elm Grove Baptist Church Building Fund.
Mr. Hall was born on Oct. 28, 1932, in Leavenworth, Kansas to Byron and Zula Hall and was raised in Weston, Mo., graduating from Weston High School in 1950. He attended Denver University and then served as a Seabee in the U.S. Navy during the Korean War.
He worked as a machinist at Great Western Mfg. Co in Leavenworth for 10 years and was then recruited by Hallmark Cards where he worked for 33 years. He was a longtime member and head deacon of the Elm Grove Baptist Church, where he led the music for more than 20 years. He served on the Lansing City Council for 12 years. He was a member of the Gideon's International and was a past Grand Master of the Lansing Masonic Lodge. In his spare time he enjoyed helping with building projects in the community and hunting and fishing with his family.
He was preceded in death by his father, Byron Hall, in 1986 and by his mother, Zula (Hill) Hall, in 2006. Survivors include his wife of almost 49 years, Barbara (Burket) Hall, of the home; two sons Jonathan C. Hall of McLouth and Timothy B. Hall of Kearney, Mo.; two daughters, Jennifer B. Manthe of Lansing and Kristen M. Hall of Hot Springs, Ark.; a sister, Frances Tompkins of Lansing and one brother, Bob Hall, also of Lansing; nine grandchildren and five great-grandchildren.
Arrangements: Alden-Harrington Funeral Home 214 Oak St. Bonner Springs, KS. 66012 913-422-4074

Contact Alden-Harrington Funeral Home by phone: 913-422-4074