Constance Lynn Elliott 1956 - 2007 Bonner Springs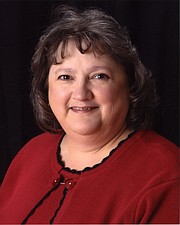 Constance L. Elliott
1956-2007
Bonner Springs
Constance "Connie" Lynn Elliott, 51, of Bonner Springs, died Saturday, Dec. 8, 2007, at the University of Kansas Hospital in Kansas City, Kan. Services will be at 2 p.m. Thursday at Trinity Lutheran Church, 16928 Evans Rd., Bonner Springs, with burial to follow in Glenwood Cemetery, near Basehor. Visitation was Wednesday at the Alden-Harrington Funeral Home in Bonner Springs. The family suggests memorial contributions to the American Cancer Society in care of the funeral home.
Mrs. Elliott was born July 10, 1956, in Kansas City, Kan., and was a lifelong area resident. She was one of the founders of EverGreen Solutions and had worked at the firm since June of 2000. She had 30 years of accounting experience including 23 years working as a deputy director of accounting with the U.S. Department of Housing and Urban Development. She was a member of the Trinity Lutheran Church. She loved to crochet for her family and loved collecting Teddy Bears.
She was preceded in death by her father, Ernie Stimach, in 1997. And she is survived by her husband of 29 years, Bill Elliott, of the home; two sons, Chris Elliott, Olathe; and Timothy Elliott of the home; one granddaughter, Alexandria; her mother, Margaret "Peg" Stimach of Warsaw, Mo.; two brothers, Stephen Stimach, of Tonganoxie; and Michael Stimach, of Aurora, Colo.; and five sisters, Sharon Baker of Piper; Teresa McCollough, Bonner Springs; Donna Nelson, Blairstown, N.J.; Mary Jorgensen, of Warsaw, Mo.; and Michelle Turner, Blue Springs, Mo.
Arrangements: Alden-Harrington Funeral Home, 214 Oak St. Bonner Springs KS 66012. 913-422-4074.

Contact Alden-Harrington Funeral Home by phone: 913-422-4074