Delbert C Baker 1942 - 2007 Basehor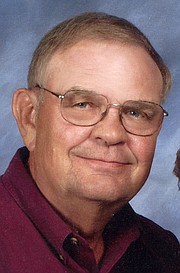 Delbert C. Baker
1942-2007
Basehor
Delbert Charles Baker, 65, of Basehor, died Saturday, Dec. 8, 2007, while in the company of family members at his home. A Mass of Christian Burial was celebrated Wednesday at Holy Angels Catholic Church, Basehor, with burial in Chapel Hill Memorial Gardens Cemetery, Kansas City, Kan. Visitation and rosary were Tuesday at the church. The family has suggested memorial contributions to the Church building fund and to the Catholic Charities Hospice.
Mr. Baker was born June 29, 1942 in Fidelity, Kan., and had lived in the Kansas City area most of his life. He was a member of the Holy Angels Catholic Church in Basehor, and of the Knights of Columbus. He had worked for many years as a trim carpenter working in the maintenance departments at St Mary's Hospital and at Bethany Medical Center. He was an accomplished hunter, fisherman and golfer, and loved watching his grandchildren's sports. He had spent many hours researching his family's genealogy.
He was preceded in death by a daughter, Cindy Baker, in 1992.
Survivors include his wife of 43 years, Donna Baker, of the home; one daughter, Paula Johnson of Basehor; four grandchildren, Jake, Joe, Jeff and Jamie; and one brother, Kenneth J. Baker of Albuquerque, N.M. Nancy Miles-Huddlestun of Overland Park and her children, Lauren and Lindsay, were also members of the family.
Arrangements: Alden-Harrington Funeral Home, 214 Oak St., Bonner Springs KS 66012, 913-422-4074.

Contact Alden-Harrington Funeral Home by phone: 913-422-4074