Gilbert "Wayne" Wichert 1934 - 2008 Basehor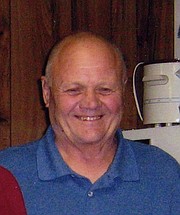 Gilbert "Wayne" Wichert
1934-2008
Basehor
Gilbert "Wayne" Wichert died January 12, 2008, with his family at his side. Celebration of Life services will be at 2 p.m. Friday at the Bonner Springs Baptist Church, 303 S. Bluegrass Dr.
Mr. Wichert was born in Adams, Okla., on June 14, 1934, to Jacob and Lula Wichert. He received the Lord while attending a Mennonite Brethren Church revival in junior high. He loved baseball and played throughout high school and college, and even accepted an opportunity to try out for the Brooklyn Dodgers. He served in the U.S. Army for several years.
He married Evelyn Grace on June 8, 1957, in May, Oklahoma. He drove for both Graves Truck Line and Churchill Truck Line. Upon retiring he enjoyed driving a bus for the Basehor-Linwood School District.
He had a passion for sports. He was a devoted fan of the University of Oklahoma and the St. Louis Cardinals. He also loved watching his own grandchildren play sports and was one of their most devoted fans.
He was preceded in death by his parents, Jacob and Lula Wichert. Survivors include his wife of 50 years, Evelyn Wichert; his son, Jerry Wichert, Stillwater, Okla.; his daughter, Debbie Barta, Bonner Springs; his grandchildren, Tiffany Hynson, Boys Ranch, Texas; Justin Wichert, Stillwater, Okla.; Shelby, Tobi, and Jacob Barta, Bonner Springs; and his great-grandchildren, Gabriel Wayne Hynson and Lilyan Jo Hynson. Other survivors include his brothers and sister, Harold Wichert, Hooker, Okla.; Cecil Wichert, Topeka; Chester "Chet" Wichert, Golden, Colo.; Marcella Frantz, Hillsboro, Kan.; and Larry Wichert, Holdenville, Okla.
Arrangements: Alden-Harrington Funeral Home, 913-422-4074

Contact Alden-Harrington Funeral Home by phone: 913-422-4074