Caroline Margaret Knight 1913 - 2008 Bonner Springs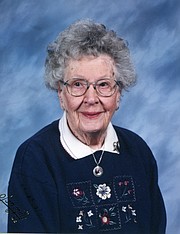 Caroline Knight
1913-2008
Bonner Springs
Caroline Margaret Knight, 94, of Bonner Springs, died Friday, Jan. 25, 2007, at the Manor Care of Overland Park. Funeral Mass will be at 10 a.m. Tuesday Jan 29 at Sacred Heart Catholic Church, at Johnson Drive and Monticello Road in Shawnee, with the burial to follow in the Bonner Springs Cemetery. Visitation will be an hour prior to the service, also at the church. Memorial Contributions can be made to the Sacred Heart Catholic School.
Mrs. Knight was born on August 30, 1913, in Waverly, Kan., to Carl and Dora Mietchen. From 1951 to 1998 she lived in Bonner Springs. She lived and survived through two World Wars, the Great Depression, and the Great Flood of 1951. She worked at Southwest Junior High School in Bonner Springs as a cook for many years and was very involved in her church, Sacred Heart.
She was preceded in death by her husband, Wayne Knight, and a son, Darrell, a son-in-law, Paul McGrath, and a daughter-in-law, Bernice Knight; two sisters, Hattie Horne and Lucille Horne, and one brother, Charles Mietchen.
Survivors include a daughter, Shirley McGrath, of Overland Park; two sons, Jerome "Coco" Knight of Joplin, Mo., and Phillip Knight of Knoxville, Tenn.; a sister, Marie Brooks of Emporia, Kan.; 14 grandchildren; 22 great-grandchildren; and four great-great-grandchildren.
Arrangements: Alden-Harrington Funeral Home, 913-422-4074.

Contact Alden-Harrington Funeral Home by phone: 913-422-4074