Joseph Myles "Joe" Umbenhower 1987 - 2009 Bonner Springs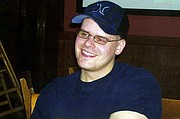 Services for Joseph Myles "Joe" Umbenhower, 22, of Bonner Springs, will be at 10 a.m. Wednesday, Sept. 16, 2009 at Alden-Harrington Funeral Home in Bonner Springs. Burial will be in Bonner Springs Cemetery.
Mr. Umbenhower died Friday, Sept. 11, 2009, in Shawnee.
He was born April 14, 1987, in Kansas City, Kan., and was a lifelong area resident. He was a 2006 graduate of Bonner Springs High School and had attended two years at Johnson County Community College. Mr. Umbenhower had worked the past five years at the Walmart in Shawnee as an electronics associate.
His maternal grandfather, Terry Melton, had died two days earlier, on Sept. 9, 2009.
Survivors include his father, Tim Umbenhower and wife, Pam, Perry; his mother, Cynthia Melton, and friend, Laura Munro, Bonner Springs; a brother, Jake Tavis, Lansing; three sisters, Jessica Tilden and her husband, Ron, Edwardsville, and Amanda and Taylor Wiyinger, both of Perry; paternal grandmother Karen Brown, Holten, Mo.; paternal stepgrandmother Jackie Umbenhower, Bonner Springs; and maternal grandmother Joan Melton, Bonner Springs.
The family will receive friends at the visitation from 6 p.m. to 8 p.m. Tuesday, Sept. 15 at the funeral home.
The family suggests memorial contributions to the family to assist with funeral expenses, sent in care of the funeral home 214 Oak St., Bonner Springs, KS 66012.