Jeffrey R. Jacobs 1960 - 2010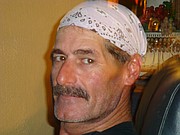 A memorial service for Jeffrey R. Jacobs, 49, Tonganoxie, will be 8 p.m. Friday, July 30, at Quisenberry Funeral Home, 604 E. Fourth St., Tonganoxie.
Mr. Jacobs died Sunday, July 25, 2010, in Kansas City, Kan.
He was born Dec. 30, 1960, in Lawrence, the son of Robert and Carol Henak Jacobs. He was a 1979 graduate of Tonganoxie High School. He was an iron worker and a member of the Iron Workers Local Union No. 10, Kansas City, Mo.
Survivors include his wife, Susan Jacobs; two sons, Dylan and Jared Jacobs; two stepsons, Cody and Jeffrey Sims; three daughters, Mandi, Brandi and Courtney Jacobs; 1 stepdaughter, Ashley Sims; his parents, Robert and Carol Jacobs, and his brother, Scott Jacobs.
Rosary will be said at 5:30 p.m. Friday at the funeral home. Visitation will follow from 6-8 p.m.
Memorials are suggested to Team Tongie, care of First State Bank and Trust, P.O. Box 219, Tonganoxie 66086.
Contact Quisenberry Funeral Home by phone: 913-845-2740