Principia Mary (Burch) Wallingford 1930 - 2012 Lenexa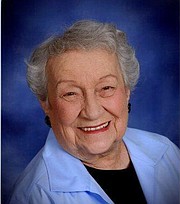 Principia Mary (Burch) Wallingford, "Princie", of Lenexa, Kansas, passed away, surrounded by loving family, at Shawnee Mission Medical Center on October 12, 2012. Princie was born in St. Louis, MO on October 24, 1930 to Joseph Edwin Burch and Elizabeth Mary (Kirchmeier) Burch.
Princie received her BS degree from Washington University, St. Louis, where she met her future husband, William "Bill" Riley Wallingford. They made wonderful music together with their band, where Bill played piano and Princie sang along. Bill and Princie were charter members of Asbury United Methodist Church, where Princie was involved in countless activities. They owned and operated Pine Hill Christmas Tree Farm in Edwardsville, KS for 20 years.
Princie's working career included helping coordinate the Northeast Johnson County Special Education Dept.; working as Personnel and Safety Director for Gifford Hill American (GHA) Pipe (formerly Interpace Lock Joint Pipe Co.) in Turner, KS; and as the Life Education Advisor for Ford at its Claycomo Plant, where she assisted employees in furthering their education with onsite classes that ranged from G. E. D to master level programs. Princie, a petite 4'10", was a giant of a woman: vibrant, warm, welcoming, and always laughing, she never knew a stranger. The family home was forever filled with love, laughter, music, children, friends, and dogs, and she remained positive and continually enthusiastic about life until the day she died. Princie was preceded in death by her beautiful granddaughter, Delicia Nirvana Duran, in 1978; adoring husband Bill, in 2006; and beloved son, Michael Joseph, in 2007. Survivors include Michael's wife, Loretta and her daughter, Rachel; Michael's children Dana (Terry) Mitchmore and Teddy Wallingford; her children Kathy (Roger) Duran, and grandchildren Aña (Matt) Williams and Damian Duran; Kevin (Lesley) Wallingford, and grandchildren Joshua (Tara) Wallingford, Cara Wallingford, and Caitlin (Joseph) Thiesfeld; Debbie (Bob) Polys, and grandchildren Abbie Polys and Hannah Polys; Princie's "adopted" daughter and caring friend, Nancy Post; six great grandchildren; wonder dogs Mimi and Harley; and friends too numerous to be mentioned. A service to celebrate her life was held Saturday, October 20th at 11:00 AM at Asbury Methodist Church, 5400 W. 75th St., Prairie Village, KS 66208. A private interment will be held on a later date. In lieu of flowers, the family suggests contributions to Asbury Methodist Church.
Please sign this guestbook at Obituaries.LJWorld.com.

Contact Porter Funeral Homes & Crematory - Lenexa by phone: 913-438-6444