Misty Dawn Kelly 1966 - 2013 Edwardsville, KS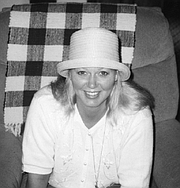 Misty Dawn (Ensley) Kelly, born December 24, 1966, a 1985 Graduate of Marion High School and current resident of Edwardsville, KS, passed on Friday December 6, 2013 following a courageous battle with a short illness. Misty was known for her warmth, sincerity, compassion and nurturing ways. She never had a bad thing to say about anyone, friend or foe alike and she always had a place at her table for friends, strangers and wayward soles. She was an artist in paint and prose alike and found great enjoyment reading poetry to her children and always had an unprecedented love for all children. She enjoyed horses, cooking, gardening and her infamous "trail of positive thoughts" through the forest. She was a great mother, wife, daughter, sister and friend and will be missed greatly by any who were blessed to have known her.
She is survived by her husband and soul mate Tim Kelly, daughter Alyssa Kelly both of the home, son Tyler Kelly of Granite City, IL. father Charles Ensley of Marion, IA., mother Judith Ensley of Edwardsville, KS., sisters Tracy McGuire of Chisago City, MN., and Cori Fitzgibbon of High Ridge, MO.
A visitation will be held Thursday December 12th at the Bonner Springs United Methodist Church in Bonner Springs, KS from 6:00-8:00 PM with services following Friday at 2:00 PM also at the church.
Misty loved children and was a great advocate for them, thus in lieu of flowers the family would like donations to made to Children's Mercy Hospital, (2401 Gillham Rd. Kansas City, MO 64108) in her name.
Please sign this guestbook at Obituaries.LJWorld.com.
Contact Alden-Harrington Funeral Home by phone: 913-422-4074