Archie Sanders, Jr. 1937 - 2014 Bonner Springs, KS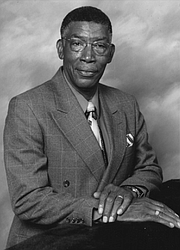 Archie Sanders, Jr., 76, of Bonner Springs, KS passed away Saturday, March 29, 2014 at the Bonner Springs Nursing and Rehabilitation. Funeral services will be 11 am, Saturday, April 5, 2014 at the New Light Baptist Church at 228 Springdale in Bonner Springs, KS with burial to follow in the Bonner Springs Cemetery. Friends may call at the visitation from 5 to 8 pm, Fri. evening, April 4, 2014 at the Alden-Harrington Funeral Home in Bonner Springs, KS and from 9 to 11 am, Sat. Morning, April 5 at the church prior to the service.
Archie was born Sept. 6, 1937 in Hughes, Arkansas to Archie Sanders, Sr. and Fannie (McDaniel) Sanders. He was an active longtime member of the New Light Baptist Church in Bonner Springs. He was no stranger to hard work, helping out his family by working on the farm starting when he was only 13. Archie moved his family to Bonner Springs in 1960 and began driving a truck. Later he was hired by the USD 204 as a custodian and then later promoted to Carpenter for the school district retiring in 2001 as a Master Carpenter after working for over 37 years.
Archie's passion was for service to his community, he served for 22 years as a Bonner Springs City Councilman, 10 years as a volunteer firefighter, 4 years as a volunteer policeman and past President of the local chapter of the NAACP to name a few. Archie also received many awards and accommodations such as the Rosa Parks Award, the Marion Vaughn Community Service award and a special commendation and flag from President and Mrs. George W. Bush for Outstanding Community Service. Archie went back to KCKCC and received his Associates degree in business management. Most of all, Archie loved God and his family and he is survived by his loving wife of 57 years Bernice Sanders of the home. 6 children Tommy L. Sanders and Bonnie E. Sanders (Cedric) all of Bonner Springs, KS; Willie C. Sanders of Bonner Springs, KS; Sgt. Archie Sanders, III (Susan) of Tampa, FL; Diana L. Jaccard (Louis D.) of Edwardsville, KS; Theresa A. Battle (Irwin) of Tonganoxie, KS. One brother Rev. John H. McConico (Vinither) of Bonner Springs, KS. 22 grandchildren and 21 great grandchildren and a host of nieces, nephews, cousins and friends that will miss him greatly.
Please sign this guestbook at Obituaries.LJWorld.com.
Contact Warren-McElwain Mortuary and Cremation Services by phone: 785-843-1120