Donna Lee Rathe 1956 - 2014 Basehor, KS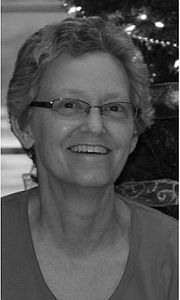 Donna Lee Rathe, 58, of Basehor, KS formerly of Sterling, NE died at her home on Friday morning, August 1, 2014. She was born on June 25, 1956 at Nebraska City and graduated from Sterling High School in 1974. She married Darrel Rathe on September 6, 1974 at St. John Lutheran Church of Sterling and they lived in Sterling. She worked as a key punch operator for the State of Nebraska in Lincoln, at the Sterling Variety Store and at Bob's Market both in Sterling. In 1986 she and Darrel purchased the grocery store and owned and operated D & D Market of Sterling until 2001. Following the sale of the store she painted for Carolyn Eltiste and then from 2006 until 2012 she was the Community Manager for Holiday Retirement in St. Joseph, Missouri, Omaha and Topeka, Kansas. She and Darrel moved to Basehor in 2012. She was a former member of St. John Lutheran Church and Immanuel Lutheran Church both of Sterling and was currently a member of Trinity Family of Faith Lutheran Church in Basehor. She was also a former member of the Immanuel LWML, Women's Jaycees and the Sterling Rescue Squad. She enjoyed spending time with her grandchildren, reading, sewing, and puzzles.
Survivors include her husband, Darrel of Basehor; daughter, Erin Harms and husband Corbin of Ashland; son, Tyler Rathe and wife Nicole of Basehor; six grandchildren, Adelyn and C. Nolan Harms and Macy, Jenna, Nia and Kya Rathe; siblings, Norma Goodwin and husband Ted of Orlando, FL, Carolyn Gilbert and husband Charlie of Johnson, Linda Slone and husband Ron of Casper, WY, Gerald Crisler and wife Elsie of Moose Lake, MN, Sherryl Wallman and husband Terry of Cortland and John Crisler and wife Brenda of Yucaipa, CA; many nieces and nephews. She was preceded in death by her parents, John and Doris Schilling Crisler and two brothers, Ray and LeRoy Crisler.
Funeral services were held at 1:30 P.M. on Tuesday, August 5, 2014 at Immanuel Lutheran Church of rural Sterling with Pastor Jason Boetcher officiating. Burial was in the Immanuel Lutheran Church Cemetery of rural Sterling. A family prayer service was held at 7:00 P.M. Monday evening at Immanuel Lutheran Church of rural Sterling. A memorial has been established to the family's choice. Visitation was held at the Zink-Fox Funeral Home of Sterling. A guestbook for signatures and messages of condolence is available online at ww.foxfuneralhome.net. Zink-Fox Funeral Home of Sterling is in charge of the arrangements.
Please sign this guestbook at Obituaries.LJWorld.com.