Deborah Jane Loker 1953 - 2014 Lawrence, KS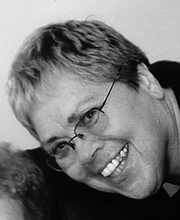 Deborah Jane Loker
Born November 22, 1953 in McCook NE. Passed away on May 13, 2014 in Lawrence, KS. The only job she ever had was as a Middle School Science teacher but she held it for 36 years, first in Dodge City KS then in Bonner Springs. Growing up in Dodge City, Deb won numerous medals as a tennis player in High School then went on to coach High School tennis in Dodge City then in Bonner Springs. She was proud that her boys' doubles took State one year. As a teacher, Deb's life was measured more in her students' accomplishments than her own. Many students have remarked that they didn't like her at the time but, in retrospect, they realized that she was the best teacher they ever had. She made learning fun. In all, the number of students who came through her classroom totaled almost 2000. Deb was never married yet had numerous close friends who came to her side as she battled cancer. She volunteered at KU Med to help other cancer patients go through the process of dealing with their illness. Through it all, she remained optimistic and made people feel better having met her. She was preceded in death by her father, Aubrey Louis Loker and one brother, Dan Loker. Survivors include her mother Carol (Schiable) Loker, a sister Barb Hamlin of Wichita and brothers Jim Loker of Vicksburg MI and Tom Loker of Holcomb KS. A memorial service will be held at Church of the Resurrection, Leawood KS, on June 8 at 1:30 in the Wesley Covenant Chapel. Deb was a member there and shortly before her death, Rev. Glen Shoup interviewed and taped her for his April 27, 2014 sermon (available in the sermon achieves at the cor.org website). In lieu of flowers, donations may be made to Church of the Resurrection and Safe Harbor Prison Dogs and mailed to Harrington Funeral Home, 214 Oak Street, Bonner Springs KS 66012.
Please sign this guestbook at Obituaries.LJWorld.com.
Contact Alden-Harrington Funeral Home by phone: 913-422-4074