Terrance Douglas Hofstra 1947 - 2014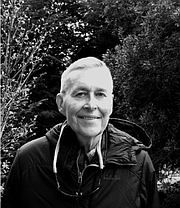 Terrence "Terry" Douglas Hofstra died June 3, 2014, at home with his family in Arcata, California, following a lengthy battle with renal cell carcinoma. Terry was born October 19, 1947, in Kansas City, Missouri to Harold and Mary Ann Hofstra. His family lived in Bonner Springs during his grade school years and he graduated from Bonner Springs High School in 1965.
He served in the United States Navy during the Vietnam era aboard the USS Ranger and USS Kitty Hawk and was Honorably Discharged in March 1970. He attended the University of Kansas in Lawrence, Kansas and graduated in 1974 and began his federal service career as a Fishery Biologist with the Environmental Protection Agency (EPA) in Dallas, Texas. During this time he earned his Master's Degree in Systematics and Ecology from the University of Texas at Dallas. He met Marilyn Holden who also worked with EPA and they were married September 24, 1977 in Decatur, Texas. In 1979 Terry transferred to the National Park Service in Denver, Colorado, and from 1980 until his retirement in December 2010 he was with Redwood National Park, serving as Chief of Resource Management and Science.
In 1998 Terry was assigned to serve as Acting Superintendent of Olympic National Park and in 2003 as Acting Superintendent of Channel Islands National Park. He was awarded the Meritorious Service Award in 2008 which is the second highest honor within the Department of the Interior
He was preceded in death by his father Harold Hofstra, his uncles Leonard Hofstra, Stan Fornalski, and Peter Fornalski, and aunts Virginia, Lillian and Elaine Hofstra and Helen Umek.
He is survived by his wife Marilyn, his daughters Krystyna of Norman, OK and Amanda of Walnut Creek, CA; his mother Mary Ann Hofstra of Enumclaw, WA; brother Gordon Hofstra and sister-inlaw Shirley of Leawood, KS; and several nieces and nephews and other relatives as well as many friends.
A memorial service will be planned and announced at a later time.
Please sign this guestbook at Obituaries.LJWorld.com.