Drew B. Bicknell 1982 - 2014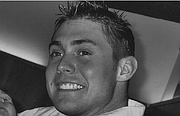 Drew B. Bicknell was called back to heaven suddenly at the age of 32 on June 12th, 2014 .
Drew graced this world with his arrival on March 23rd, 1982 in Kansas City, Kansas to parents Gary and Sheree Bicknell and older brother Derek currently of Bonner Springs, Kansas.
He graduated from Piper High school in 2000.
During his growing up years Drew was involved in many different sports. His favorite being baseball in which he excelled with the help of his father's coaching, his mother's encouragement and his brother's competitive spirit. As a result he recieved a baseball scholarship to Johnson County Community College and Emporia State University in Kansas.
He graduated in 2005 with a degree in Business Administration and went on to find employment with Spaces Inc . in Lenexa, Kansas as a project manager. Most recently he was employed with Scott Rice Office Works, based out of Lenexa, Kansas.
On May 22nd, 2010 Drew married the love of his life, Ali Shackelford. Ali and Drew were perfectly matched by God and they shared the kind of love that few are blessed to experience. They made their home in Shawnee, Kansas. Drew enjoyed so many activiities in life such as completing difficult marathons benefitting The Wounded Warriors Foundation, camping, fishing, any kind of nature based activities, softball, baseball and football leagues. He was definitely a full fledged Kansas Jayhawk fan.
On February 2nd, 2012 Drew and Ali welcomed thier miracle baby, Brady Drew Bicknell into this world. Drew was a magnificent husband, but he truly excelled in fatherhood. Brady was his pride and joy and Brady adored his Daddy. To Drew the best part of life was a simple quiet evening with just the three of them.
The Bicknell family of 3 moved to Minnesota in September of 2012 where they built a beautiful new home in Elko New Market, Minnesota. In the recent days, prior to his passing, Drew was filled with such excitement and anticipation as he planted three 20 ft gorgeous maple trees, that now symbolize the past, present and future life of his family.
The legacy of this young man who was taken from us far too early was one of true unconditional love and respect for every one he met. To define him would be in two simple words "pure goodness". Drew has touched and inspired more lives in his few short years than many of us do in a lifetime. When faced with a decision or reaction since his passing we respond with "What would Drew do?"
Drew is survived by his wife Ali, and son Brady Bicknell, his parents Gary and Sheree Bicknell, brother Derek, nephew Brody Bicknell, Grandma Kay Rucker and Grandma Anne Rucker. His mother and father in law Bob and Cyndy Shackelford, sisters in law; Sadie Miller (John), Lynnsey Carlsen (Dave), Kellee Smith (Chris), neices Hailey, Reese, Olivia, Madison, Parker, Paislee, and nephew Bodee, as well as many loved aunts, uncles, cousins and friends.
We plan to celebrate this wonderful man's life first with his Wake on Thursday, June 19th. 4-8pm the at the White Funeral Home. 20134 Kenwood Trail, Lakeville, Minnesota 55044. The Funeral and internment will be held on Friday, June 20th at 11:00 am at the Church of St. Nicholas. 51 Church Street, Elko New Market, Minnesota 55020. Luncheon will follow in the church basement. A memorial will also take place June 29th, at the Lake of the Forest clubhouse in Bonner Springs, KS at 2:00.
Drew our unsung Hero will forever be engraved in our hearts.
In lieu of flowers we have created; Drew's Miracles for Ali and Brady; a beautiful fund for donations to help guide Ali and Brady along as they proudly carry on Drew's legacy. https://www.youcaring.com/WeLoveDrew
Please sign this guestbook at Obituaries.LJWorld.com.