C. Calvin Hansen 1919 - 2014 Manhattan, KS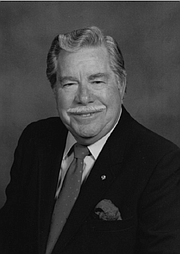 C. Calvin Hansen, age 94, of Manhattan, Kansas, died Thursday, March 13, 2014, at the Meadowlark Hills-Bramlage House in Manhattan.
He was born on June 3, 1919, in Kansas City, Missouri the son of Dewey C. and Julia Belle (Shipman) Hansen.
Mr. Hansen served with the United States Marines during World War II. Enlisting in 1939 as a private, he served in Guadalcanal, the Philippines and in Okinawa. He was honorably discharged in 1947, at the rank of Captain.
Mr. Hansen was a builder, developer and inventor. He lived in Bonner Springs and Pratt, Kansas and in southern Missouri in addition to Manhattan during his lifetime. He was a member of the First United Methodist Church in Bonner Springs and a life member of both the V.F.W. and American Legion in Bonner Springs. Mr. Hansen was also a Shriner and a 32nd degree Mason.
On December 27, 1949, in Pratt, Kansas, he was united in marriage to the former Julia Louise Penny. Mr. and Mrs. Hansen opened the University Gardens subdivision at Anderson and Garden Way in Manhattan in 1963. This was the first large apartment project in Manhattan after World War II. Mr. Hansen also was a former Chamber of Commerce Manager while living in Pratt and was a Business Development Specialist for the Small Business Administration in Bonner Springs, Kansas. He also operated a large plant in southern Missouri that built yachts and later another plant that built industrial vacuum sweepers that took the dust out of the air in large plants. He later developed an escape system for buildings that utilized hydraulic power instead of electricity.
Mr. Hansen was preceded in death by his wife on April 30, 1998. He was also preceded in death by two sisters, Erma C. and Velma E. and one brother: Paul L. Hansen.
He is survived by numerous nieces and nephews.
A visitation will be held from 6:00 p.m. until 7:00 p.m., Wednesday, March 19, 2014, at the Yorgensen-Meloan-Londeen Funeral Home.
Funeral services will be held 10:00 a.m. Thursday, March 20, 2014, at the Yorgensen-Meloan-Londeen Funeral Chapel with Reverend Troy Bowers officiating.
Graveside services with military honors will be held 4:00 p.m. Thursday at the Chapel Hill Memorial Gardens Cemetery, 701 N. 94th Street, Kansas City, Kansas 66112.
On-line condolenes may be left for the family through the funeral home website located at www.ymlfuneralhome.com.
The Yorgensen-Meloan-Londeen Funeral Home, 1616 Poyntz Avenue, Manhattan, Kansas 66502 is handling the arrangements.
Please sign this guestbook at Obituaries.LJWorld.com.