Golden Coleman 1919 - 2014 Bonner Springs, KS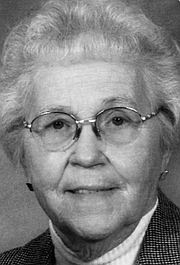 Golden Harriet Coleman, 95, of Bonner Springs, KS passed away on Monday, May 12, 2014 at Shawnee Mission Medical Center in Merriam, Kansas.
Graveside Committal Service will be at 9:30 am, on Friday, May 16 in the Bonner Springs Cemetery
and Memorial Funeral Services will follow at 11 am, Friday, May 16 at the Bonner Springs United Methodist Church, 425 W. Morse in Bonner Springs, KS. Friends may call at the Visitation from 6 to 8 p.m., Thursday evening, May 15, also at the Bonner Springs United Methodist Church. The family is suggesting memorial contributions to the Bonner Springs United Methodist Church.
Golden was born on March 29, 1919 in Basehor, KS and was a lifelong resident of the Bonner Springs area and in recent years had enjoyed living at Shawnee Hills Senior Living in Shawnee, KS.
She and her husband Jim owned and operated Coleman Implement company for over 70 years. She was a longtime member of the Jolly Jill's E.H.U., the Bonner Springs United Methodist Church and it's United Methodist Women's group. She also love to play cards and all games with her friends and family and she especially liked to travel. She was always "ready to go". She enjoyed working, whether it was in her garden, or on a quilt that she had made, or cooking for the many family and friends that were welcomed into their home. And she was a voracious reader often reading 2 to 3 books a week.
She was preceded in death by her husband of 70 years, James R. Coleman, "Jim" in 2010.
And is survived by two sons Del Coleman and his wife Betty and Bruce Coleman and his wife Cheryl all of Bonner Springs, KS and two daughters Sharon Nyman of Henderson, NV and Linda Edgell and her husband Rick of Basehor, KS. Nine grandchildren and 14 great-grandchildren, all who will miss her greatly.
Please sign this guestbook at Obituaries.LJWorld.com.
Contact Alden-Harrington Funeral Home by phone: 913-422-4074