Kenny Wilcox 1936 - 2014 Kansas City, KS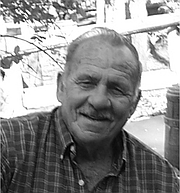 Capt. James Kenneth Joe Wilcox Sr., retired Kansas City, KS Fireman, age 78, of Bonner Springs, KS passed away on Friday, November 14, 2014 at Providence Medical Center in Kansas City, KS. Funeral service 11 AM, Wed., Nov. 19, at the Alden-Harrington Funeral Home in Bonner Springs, KS with burial following in Hubble Hill Cemetery in Tonganoxie, KS. Visitation 5:30 to 8 PM, Tuesday, November 18, at the funeral home. The family suggests memorial contributions to the Vaughn-Trent food pantry in care of the funeral home. Mr. Wilcox was born on September 23, 1936 in Bonner Springs, KS and has lived in Bonner Springs for the last 37 years. He was a U.S. Army veteran and had worked as a fireman in Kansas City, KS for 22 years, retiring in 1987 as a captain. He has enjoyed driving a school bus for over 40 years, primarily in the Bonner Springs School District. He is survived by his wife of nearly 58 years Janet Wilcox of the home and four children Joe Wilcox; Diane Wilcox; Debbie Elmer-Wilcox and David Wilcox and his wife Val. Eight grandchildren Mandy, Courtney, Nikki, George and his wife Andrea, Zachary, Stephanie, Parker and Cooper and five great-grandchildren Jada, Jaxson, Alyssa, Audrina and Annie Joe.
Please sign this guestbook at Obituaries.LJWorld.com.
Contact Alden-Harrington Funeral Home by phone: 913-422-4074