Lena M. Mayberry 1919 - 2014 Basehor, KS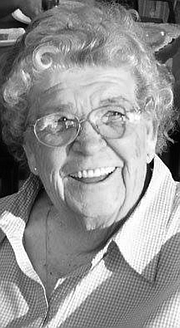 Lena Marjorie Mayberry, 94, of Basehor, Kan., passed away peacefully Oct. 5, 2014, at the Bonner Springs Nursing and Rehabilitation Center. The family received friends from 6 to 8 p.m. Wednesday evening, at the Alden-Harrington Funeral Home, 214 Oak St. Bonner Springs, Kan. Graveside services will be 10:00 a.m. Thursday, October 9th at Chapel Hill Cemetery in Kansas City, Kan.
Lena was born Nov. 21, 1919, to Maurice and Martha Rosebaugh in Gas, Kan. She graduated from Iola High School. On April 19, 1938, she married Don (A.D.) Mayberry. Lena worked for TWA and Crawford Manufacturing before deciding to go to cosmetology school. She became a hairdresser, owning her own beauty shop for 13 years, until she retired. She moved to Basehor in 1992, living in her own home until the age of 92. She was a member of the Order of the Eastern Star, Basehor Gold Pride and was recognized as Basehor Citizen of the Year in 2000 for her community involvement. She was a 1998 graduate of the Southern Leavenworth County Leadership Development and was an officer in the Wellington Home Owners Association for many years. Lena enjoyed gardening, sewing, fishing, cooking, traveling and spending time with family and friends. Her smile and happy spirit will be missed by all who knew her. Lena was preceded in death by her husband Don (A.D.) Mayberry in 1991; three sisters, Pearl Ross, Lillian Rice and Frances Jones, and one brother, Archie Rosebaugh; and her daughter-in-law, Joyce E. Mayberry. She is survived by her son, Donald E. Mayberry, Basehor; granddaughters, Traci Mayberry, Basehor, and Susan Mayberry, Overland Park; several nieces, nephews and great-nieces and great-nephews, and her kitty, Sammie Sue. In lieu of flowers, the family suggests memorials to the Basehor Gold Pride or Good Shepherd Hospice in care of the funeral home.
Please sign this guestbook at Obituaries.LJWorld.com.