MacArthur Von Birzer 1976 - 2014 Bonner Springs, KS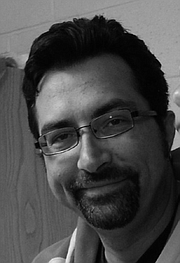 MacArthur "Mac" Von Birzer, age 38 of Shawnee, Kansas and previously of Bonner Springs, Kansas passed away on Wednesday, October 1st, 2014 at his home. Funeral Services where held 10:00 a.m., Wednesday, Oct. 8th at the Bonner Springs United Methodist Church with burial to follow in the Bonner Springs Cemetery. The family received friends at a visitation from 5 to 8 p.m. Tuesday evening, Oct. 7th, at the Alden-Harrington Funeral Home. Memorial Contributions can be made to the Shawnee Tribe and mailed to the funeral home.
Mac was born on March 14th, 1976 in Manhattan, Kansas. He was part of the fourth generation in his family to graduate from Bonner Springs High School and he did so in 1994 and went on to attend the University of Kansas. He married Christie DeLaughter in 1997 and together they made their home in Shawnee where they raised their two sons; Alexander and Jacob. He had worked at Overland Cabinet Company in Bonner Springs and Tripmate in Kansas City, Missouri. Mac was a proud member of the Shawnee American Indian Tribe. He was preceded in death by his paternal grandparents Leo and Regina Birzer and maternal grandfather Clifford Gallagher. Survivors include his wife Christie and two sons Alexander and Jacob of the home. Parents Matthew L. and Debe J. Birzer of Bonner Springs, KS., brother Marcus D. Birzer and wife Monica of Lawrence, KS., Maternal grandmother Jeannine Gallagher of Bonner Springs, KS., Mother and Father-in-law Ron and Cindy DeLaughter of Lenexa, KS. Brother-in-law Andrew and Daniel DeLaughter, sister-in-law Liz DeLaughter, nieces and nephews Katie, Nathan, Kira, Trenton and Skyler. As well as his beloved furry companion "Spooky".
Please sign this guestbook at Obituaries.LJWorld.com.
Contact Alden-Harrington Funeral Home by phone: 913-422-4074