John Edward Flower 1946 - 2014 Basehor, KS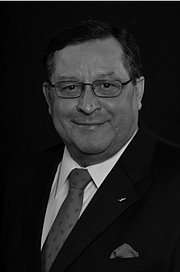 John Edward Flower, age 68 of Basehor, KS. and previously of St. Louis, MO, passed away on Tuesday, October 21, 2014 at the University of Kansas Medical Center surrounded by his family. A Celebration of John's life was held 1pm on Saturday, Oct. 25th at the Basehor United Methodist Church. The family received friends at the church from 11:30am to 1pm prior to the service.
John was born on September 8, 1946 in Kansas City, Kansas the youngest of two children born to Dale and Frankie (Perry) Flower. John was a graduate of Turner High School and Rockhurst University. He served in the U.S. Army during the Vietnam Era. John was an executive at Southwestern Bell Telephone (now AT&T) and retired in 1999 after a 33-year career. In 2008 John was elected as a Leavenworth County Commissioner and served through 2012. John was very active in local and county government, most recently serving on the Planning Board for the City of Basehor. John married Diana Marie Gammon on December 20, 1969 and they spent 40 wonderful years together. Diana preceded him in death on December 11, 2008. He was also preceded in death by his parents, father-in-law Thomas Gammon, and son-in-law William Ryan Torpey. He is survived by two children: Jason Flower (wife Diana) and Alexia Torpey; two grandchildren (Georgia Torpey and Cecily Flower); one sister, Jeanne A. Alexander; mother-in-law, Edna Gammon; brother-in-law and sister-in-law, Paul and Debra Cook; four nephews and one niece. John married Susan Ash Dudley on September 28, 2013 and expanded his family immediately with two stepchildren, Melissa Ash Glenski (husband Thomas) and Dr. Michael Ash (wife Danielle), as well as three step-grandchildren (Sarah Glenski, Isaac and Liam Ash). John was passionate about his faith, his family, and his many hobbies. He loved music, especially jazz, and had a music collection of over 1500 CDs. He was a patron of the American Jazz Museum in Kansas City and helped establish the Jazz at the Bistro program in St. Louis. He was an avid sportsman who enjoyed playing softball, sailing (especially with his best friend Larry Thompson), and riding his motorcycle. However, John's spirit shined the brightest in the company of his family, especially his grandchildren. When he wasn't at the grill or preparing meats in the smoker, he loved cooking with Sue and entertaining friends and family. The last ten years of John's life were made possible through organ donation – a gift for which he was immensely grateful. If desired, memorial contributions may be made to the Basehor United Methodist Church or to the charity of your choice, both in care of the Alden-Harrington Funeral Home.
Please sign this guestbook at Obituaries.LJWorld.com.
Contact Alden-Harrington Funeral Home by phone: 913-422-4074