Willaim P. Kelly 1967 - 2014 Bonner Springs, KS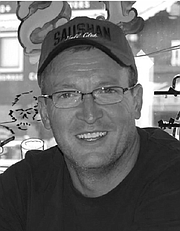 William "Bill" Paul Kelly, age 46, of Bonner Springs, Kansas passed away on Monday, Sept. 1, 2014. Funeral Mass Service will be at 10:00 a.m., Tuesday, Sept. 9th at the Sacred Heart of Jesus Catholic Church (Johnson Dr. & Monticello Rd.) in Shawnee, KS. with burial to follow in the Holy Angels Catholic Cemetery near Basehor, Kansas. The family will receive friends at the visitation from 5 to 8 p.m., Monday evening, Sept. 8th also at the Church, where a Rosary Service will begin at 8 p.m. The family suggests Memorial Contributions can be made to the Catholic Education Foundation in memory of Bill Kelly or the Sacred Heart of Jesus Catholic Church Building Fund; both in care of the Alden-Harrington Funeral Home, 214 Oak St. Bonner Springs, KS. 66012 913-422-4074
Bill was born October 27, 1967 in Kansas City, KS to Rosalie C. (Nick) and the late Clarence J. Kelly.
He was a lifelong member of the Sacred Heart of Jesus Catholic Church, Shawnee, KS. And a member of the Knights of Columbus.
Bill was a 1986 graduate of Bonner Springs High School, during his high school years he was a three sport athlete, an All State Football Player and was named Outstanding Male Athlete of the Year, and the Kansas City Star Student Scholar Athlete of the year. He graduated from Pittsburg State University with a degree in construction management . He was member of the Sigma Phi Epsilon Fraternity.
He was Vice President and Chief Operating Officer of Omega Door, Kansas City, KS where he recently celebrated working for the last 15 years. He was Vice President of Omega Construction Services of Kansas City, KS and he was a member of the Cookson President's Council.
He was an active board member of the Catholic Education Foundation for the last 2 years, where his involvement showed he truly cared about under privileged children and their families.
Bill is proceeded in death by the mother of his children April L. Kelly in 2000, and his father Clarence J. Kelly in 2012.
Survivors include his son; Wyatt D. Kelly and daughter; Lesley R. Kelly.
His mother Rosalie C. Kelly of Bonner Springs, KS. 4 brothers Dennis (Susie) Kelly, Jim (Cindy) Kelly, Tom (Donna) Kelly, all of Bonner Springs, KS; and Jack Kelly of Newton, KS. 3 sisters Debra (Dennis) Breuer of Basehor, KS; Kathleen (Hoot) Gibson of Kansas City, MO; and Ellen Lynn of Lee Summit, MO. 21 nieces and nephews, and 21 great nieces and nephews. He will be truly missed by all of his family and friends.
Please sign this guestbook at Obituaries.LJWorld.com.
Contact Alden-Harrington Funeral Home by phone: 913-422-4074