Joanne Tilly 1936 - 2015 Bonner Springs, KS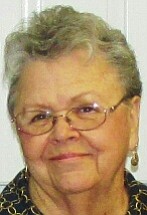 JOANNE TILLY
Yvonna Joanne Tilly, 78, of Bonner Springs, KS passed away Tue., April 14, 2015 at Shawnee Mission Medical Center in Merriam, KS. Funeral services were at 12:30 pm, Tuesday, April 21, at the Committal Shelter of the Leavenworth VA National Cemetery in Leavenworth, KS. Friends and family gathered at the visitation from 9:30 to 11:30 am, Tue., April 21, at the Alden-Harrington Funeral Home in Bonner Springs, KS. The family suggests memorial contributions to the American Heart Association or the American Diabetes Association, both in care of the funeral home.
Joanne was born Sept. 16, 1936 in Oklahoma City, OK and raised her family in Roeland Park, KS, later moving to the Bonner Springs area 20 years ago. Joanne worked a variety of jobs throughout her life, including nine years at Yellow Freight. Her true passions were her family and friends especially her husband, three children and wonderful grandchildren. She also loved gardening, reading and painting.
Joanne is survived by her husband of 60 years Jim Tilly of the home; three daughters Lisa Eldred (Joe) of Battle Creek, MI, Kelly Walls of Overland Park, KS and Christy Tilly (Denise) of Lawrence, KS; two grandchildren William Walls III (Amanda) and Samantha Walls; and one great granddaughter, Stella Mae.

Contact Alden-Harrington Funeral Home by phone: 913-422-4074