Catherine Hamilton Laudan 1926 - 2015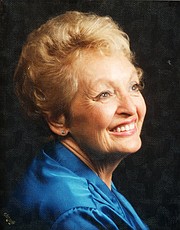 Catherine "Cathy" Hamilton Laudan, age 89, of Lenexa and previously of Bonner Springs, KS., passed away on Monday, August 31, 2015, peacefully at Pinnacle Ridge Nursing Home in Olathe, Kansas. A Celebration of her life was held 2:00p.m. Saturday, Sept. 5th at the First Christian Church of Bonner Springs (148 N. Nettleton Ave.). the family received friends at a visitation from 1 to 2pm prior to the service also at the church. Memorial Contributions can be made to the American Diabetes Association in care of the Alden-Harrington Funeral Home.
Cathy was born on July 26, 1926 in Arlberg, Arkansas and was the oldest of three daughters born to Sylvester & Marie Robbins. As a child she moved with her family to Bonner Springs and she graduated from Bonner Springs High School. Cathy married her high school sweetheart, William LeRoy Hamilton and together they raised their children in Bonner Springs. Cathy had worked as a Key Punch Operator for Hallmark Cards and later worked at, and retired from, TWA as an Accountant. She was preceded in death by her first husband, William LeRoy Hamilton, and later married, James A. "Al" Laudan. Together they were very active in People to People International, The Kansas City Chiefs Red Coaters, as well as local and regional politics that culminated with them being invited and attending President Ronald Regan's, Inaugural Ball. Cathy and Al enjoyed extensive travel all over the world. She was preceded in death by her parents, one daughter Connie Hamilton, her second husband James A. "Al" Laudan, one son Ronald L. Hamilton, two sisters Viola Oelschlaeger and Christine Turner. Survivors include, two sons William Hamilton of Shawnee, KS., and Michael Hamilton and his wife Rhoda of Shawnee, KS., grandson Toby Hamilton of Overland Park, KS., granddaughter Amy Bell and her husband Lucas of Prairie Village, KS., and one great-grandson Felix.